About Forest Lab
Forest Lab is an application within myForest which provides technology and tools to help land managers share data to inform environmental science, and in return improve knowledge exchange between scientists and land managers.
Sylva Foundation and Forest Research are working in partnership to deliver Forest Lab, enabling myForest users to collect and share data from their woodlands to help support research. myForest users are responsible for about 9% of woodland area across the UK, therefore collectively are able to represent a wide range of woodland types, and to explore many different issues, at thousands of different locations across the country. We hope that as a result we will create a unique and powerful tool to capture important information and data about environmental change.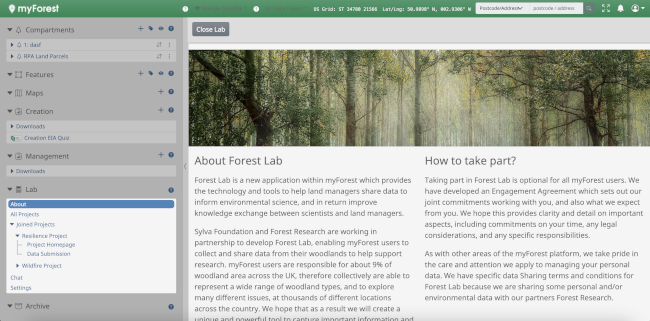 How to take part?
Taking part in Forest Lab requires you to have an account on the myForest platform. An Engagement Agreement sets out our joint commitments in working with you, and also what we expect from you in return. We hope this provides clarity and detail on important aspects, including commitments on your time, any legal considerations, and any specific responsibilities.
As with other areas of the myForest platform, we take pride in the care and attention we apply to managing your personal data. We have specific data sharing terms and conditions for Forest Lab because we are sharing some personal and/or environmental data with our partners Forest Research. In time, we hope to start working with more partners, in which case we will always be explicit and clear about the sharing of any data and ask for your permission.
Join myForest
Science Projects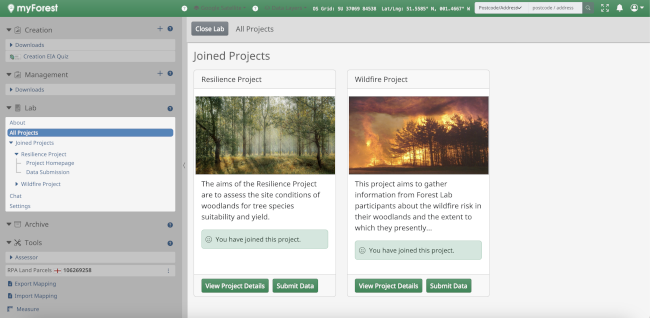 Forest Lab has been designed to support specific projects conducted to explore a range of specific subjects, from forest health to tree growth, while the data overall will support the National Forest Inventory.
Growth Project - Tree growth is a key ecological parameter of forests that is strongly linked to a range of influencing factors. Where repeated measurements of tree increment such as diameter, basal area, height or volume are carried out over a period of time, these measurements can help improve understanding of the response of trees to changes in site (e.g. management) and environmental/climate (e.g. frost, drought) conditions.
Wildfire Project - The objective of this project is to collect valuable information and data to help understand wildfire risk for researchers. This information will be used to assess and decrease wildfire risk for myForest users, and woodland owners across the country.
Resilience Project - The objective of this project is to assess the site conditions of woodlands for tree species suitability and yield in order to help understand which tree species are ecologically suited to particular sites. This will help myForest users, and woodland owners across the country, improve resilience of their woodlands under climate change.
In Development - several new projects are in development, including one exploring the monitoring of forest health.